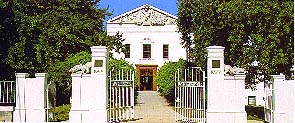 KWV
Paarl is situated approximately 60km north/east of Cape Town on the N1 Highway. It is a town of many facets. It is the town where the Afrikaans Language has its origin and boasts a fine memorial to it - 'Die Taal Monument' (Language Monument). The town hosts the Head Office of the KWV (Co-operative Winemakers Association), an association responsible for most of the research, production and promotion of quality wine in South Africa and overseas.
Paarl also has a fine array of well-preserved old buildings and houses dating back to the early settlers and the Victorian days. Many of these have been converted into places of accommodation and staying over in Paarl can be an experience not easily forgotten.
Paarl also boasts with a large industry sector, which has been formed mainly on the backbone of the wine industry. Due to its plentiful water supply, the town's infrastructure and its close proximity to Cape Town Harbour and Airport has given rise to a phenomenal growth in the industrial sector.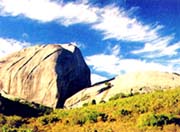 Paarl Rock
EARLY HISTORY
After the landing of Jan van Riebeek, a gentleman by the name of Abraham Gabbema visited the Berg River valley in 1657 on hunt for meat for the Cape Settlers. These are believed to be the first European visitors to enter the Berg River valley. The residents occupying this territory at the time were people from the Khoi Khoi tribe, called the Hawequas, living in the du Toits Kloof Mountains.
Looking at the Clapmus Mountains, as Gabbema had named them, from the North Westerly direction after rain had fallen, he noticed that the large granite boulders glistened when the sun came out, seeing this Gabbema named the mountain 'Peerleberg' (Pearl Mountain). This led to the name 'De Paarl' (The pearl) being used and has stuck ever since.
During the reign of Simon van der Stel as Governor of the Cape, farms were allocated to free burghers and the French Huguenot joined them later to set up one of today's finest wine producing areas.
Early residents of Paarl are today believed to be the leaders in the fight to have Afrikaans recognised as a language. People such as Totius, D.F. Malherbe, A.G. Visser, A.I. Perold, P.J. du Toit, to name but a few, stand out in the quest for language recognition and were all renowned people in their field of expertise.
Paarl hosts buildings with architectural style from all era reflecting the living styles of the countries in control of the Cape, at various stages, as well as the immigrants of different countries that came to settle.

Telephone Numbers
Ambulance
10177

---

Ambulance Private
021 872 1970

---

Hospital
021 872 1711

---

Hospice
021 872 4060

---

Police
021 807 4000

---

Fire Dept
021 872 1404

---

Electricity Department
021 871 1911

---

Water Dept
021 807 4710

---

Magistrate
021 872 3127

---

Prosecutor
021 872 3127

---

Sheriff
021 872 8057

---

Traffic Dept
021 872 4755

---

Post Office
021 872 2786

---

Library
021 807 4871

---

Information Bureau
021 872 3829

---

Municipal Offices
021 807 4500

---

International Airport
Cape Town
021 934 0407