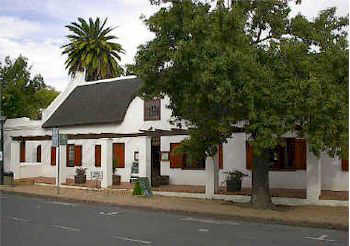 Stellenbosch is approximately 50km from Cape Town and 35km from the Cape Town Airport.
It is today recognised as a cultural and academic centre housing one of South Africa's largest and leading University.
Stellenbosch is also recognised as one of the finest wine producing areas in South Africa and competes will with renowned wine producers anywhere in the world.
Over the years Stellenbosch has developed its academic status and can boast with some of the finest schools for boys and girls in the country. Following the technology path a techno park has been made available for industry involved in this arena.
Fine and gracious accommodation is available and a selection of restaurants to suit every visitors palate. Many hours can be spent walking through oak lined streets and visiting buildings dating back to the first inhabitants.
For the golf enthusiast there are many fine 18-hole golf courses to choose from.

EARLY HISTORY
After a visit by Simon van der Stel, Governor of the Cape, to the banks of the Eerste River, a beautiful wooded place, farms were granted to settlers for the purpose of growing fruit and vegetables to supply the people of Cape Town. Stellenbosch was borne out of these settlers naming it after Simon van der Stel. Stellenbosch is the second oldest town in South Africa after Cape Town.
For many years the people of Stellenbosch sought permission to start a school to teach theology and in 1859 this was granted. This was the start of Stellenbosch' s heritage to become a leading educational centre and in 1918 a university was founded incorporating all other educational establishments of higher tertiary education.
Many fine buildings can be found incorporating different styles of architecture giving an indication of the fashion of the times as well as the rulers in charge of the Cape and the diversity of nationalities that lived in it.

Telephone Numbers
Ambulance
10177

---

Ambulance Private
853 4626

---

Hospital
887 0310

---

Hospice
886 5994

---

Police
809 5000

---

Fire Dept
808 8888

---

Electricity Department
808 8343

---

Water Dept
808 8343

---

Magistrate
887 0114

---

Prosecutor
887 0114

---

Traffic Dept
808 8800

---

Post Office
883 2233

---

Library
808 8154

---

Information Bureau
883 3584

---

Municipal Offices
808 8111

---

International Airport
Cape Town
934 0407