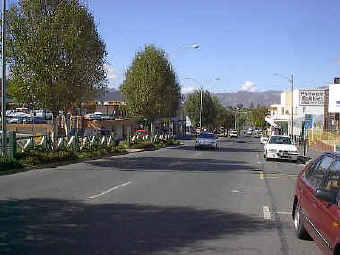 If you want to have the best of many worlds then Somerset West is certainly the place to give it to you. Beautifully placed under the wooded slopes of the Helderberg mountains Somerset West supplies gracious living with magnificent views of the sea and the mountain ranges. It is close enough to Cape Town to commute to work (and the Cape Town International Airport) and just far enough to escape the hustle and bustle of city life when you are not working. Somerset West offers natural entertainment for both young and old.

Somerset is the ideal starting place for many scenic drives and you are basically no more than an hour's drive to many beautiful places to visit. If it's hiking you are into than there are many trails to follow. If you are a beach person, a ten-minute drive places you on the whitest sand and one of the safest beaches in the world. Wine can be tasted on the many excellent wine-producing farms on the Helderberg wine route.

Evenings can be spent in any one of the many high quality restaurants and there is a choice of cuisine second to none. Accommodation is available to suit everyone's pocket.

The climate is typical Mediterranean and summer days can reach temperatures of 33°C with little rain. Winters can go as low as 5°C with much rain, making for wonderful evenings by the fire. During December and January we are visited by the so-called 'Cape Doctor', which is a South Easterly wind and can blow quite hard with the advantage that it clears the air but can upset holidaymakers during this time. The Cape Doctor blows more prolific near the sea than in Somerset West itself.

SHORT HISTORY
Somerset and in general the False Bay coastal area was inhabited by indigenous people, named the Strandlopers (beach Combers). Most of the land was claimed by the then Governor of the Cape William Adrian van der Stel, appointed by the Dutch East India Co who were in control of the Cape, and he created the farm Vergelegen on which he lived until 1708. The farm was later sub divided. During the time the Cape was under British control the farmers working Vergelegen farms requested permission to build a church from, the then Governor of the Cape, Sir Charles Somerset. This was granted and with the subsequent buildings going up around the church a village was created and this was named after the Governor Lord Charles Somerset as Somerset, later to be renamed Somerset West so as not clash with a similarly named town in the Eastern Cape, Somerset East.

Telephone Numbers
Ambulance
852 1334

---

Ambulance Private
853 4626

---

Clinic
852 2131

---

Hospice
852 4608

---

Hospital
852 1334

---

Police
850 1303

---

Fire Dept
853 1122

---

Information Bureau
851 4022

---

Electricity Dept
850 4405

---

Water Dept
850 4455

---

Magistrate
851 5945

---

Traffic Dept
850 4447

---

Sheriff
852 4345

---

Prosecutor
851 5945

---

Post Office
851 7053

---

Telephone Co
10219

---

Municipal Offices
850 4000

---

Library
850 4458

---

International Airport Cape Town
934 0407